Getting my R32 GT-R back on the road is getting closer. My brother has been working hard putting it all together at his factory. It's a shame I can't help him as I now live 1000km away in Sydney. As we are going with the low mount twin turbo setup initially, this week I made a purchase of a pair of CES dump pipes.
CES dump pipes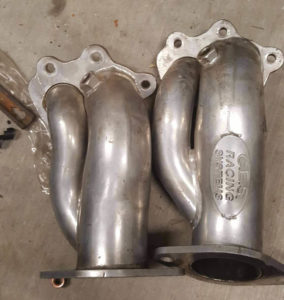 From the reviews online there's a long list of people claiming that the CES dump pipes flow better than the HKS stainless set. These claims are very much opinion based as no one provided bench test results that state the CES dump pipes flow better.
I don't have HKS dump pipes to compare the two but on closer inspection the CES dump pipes seems to have been designed to flow better.
Drawing back to my studies in fluid mechanics at University, the ideal dump pipes want to exit the exhaust gas as fast as possible. To do that, the gas has to flow out as smooth as possible without restriction and resistance; for example really tight bends.
The CES dump pipes are mild steel and I got the ones with the silver ceramic coating. The ceramic coating on the dumps reduces the heat under the bonnet. Instead of emitting heat it is held within the dump which is another advantage as it keeps the gases hotter for longer which in turn allows the gas to exit faster.
Grabbing a bargain
Initially I was looking for a pair of R34 GT-R dump pipes because they were a lot cheaper than aftermarket sets. My brother told me of a R32 GT-R out there making 500+ kw using R34 GT-R dumps and I figured that since our goal was to make 500rwkw why not use it.
I posted an advertisement in a GT-R Facebook group stating I was looking for a set of R34 GT-R dumps and a member of the group messaged me about the CES dump pipes he had. Since it was at a very good price I snapped it up straight away.
The Goal
The goal for my R32 GT-R is to make 400 rear wheel kilowatts using the low mount turbos on e85. The turbo's that I will be using is the Garrett 2860-9 which is the HKS GT-SS equivalent. I have heard people breaking the 400rwkw with -9's on e85 and I am hoping to do the same.
If you have been following this blog you'd know that my 32 GT-R got defected awhile back. For this reason I am going with a low mount setup so I can clear the defect then push this set up to it's max. After we have hit the ceiling of performance on these turbos we are planning to go back to a big single.
The end goal is to have a 9 second quarter mile car that can be driven on the street and tracked. A lot more supporting mods will be purchased during the year including a transmission package to get to that goal. But for now, it's all about getting the car on the road.