I decided to write this article on the back of a picture of a dyno read out my friend sent me. He was recently at a dyno shoot out and a R33 GT-R pulled 462KW. He sent it to me in amazement in regards to the power figure. Don't get me wrong, that is an impressive power figure but not really a big deal when it comes to the RB26 power figures I have seen in the past.
The R33 GT-R was running a big single Precision turbo on e85 fuel and from all indications had a full forged bottom end build. Given this information is 462KW such a big deal for this package? My opinion, No! So let me break this down.
Big single turbo on a standard RB26 bottom end
When Ben owned Racepace I used to go down and have lengthy discussions with him. Oneway he spoke to me about a R33 GT-R he had in the shop running a Single Garrett T04Z on a standard RB26 bottom end. The car was pretty much stock apart from the turbo set up, injectors and aftermarket in tank fuel pump. The car was pulling 415KW at the wheels.
I know what you are thinking, yes it pulled 400+ kilowatts but what's the reliability like. Fair call! But that car had been going hard for over 6 months and isn't it impressive that a standard engine and get into the 400KW mark?
Big single turbo on a forged RB26 bottom end
A big single on a forged RB26 can easily get you 400KW at the wheels; even a GT35R (which I do not consider a big turbo) will get you there. The mods described in the previous section (standard bottom end) will easily get a forged RB26 into the 400's. Only difference is that it'll be a reliable 400KW GT-R.Actually, there's one other difference. You'll have to have deeper pockets as a forged RB26 build will take you well over $10K making the single turbo forged bottom end route costing around $20K.
Best modifications for getting a RB26 into the 400KW mark
ECU: Power FC $1000
Fuel pump: e85 in tank pump $500
Injectors: ID 1600's $1500
Turbo: Garrett 35R .82 housing or bigger $1800
Manifold: 6Boost high mount single turbo manifold $1200
External gate: Turbosmart Pro gate $800
Tune: $700
Misc: Oil and water lines, air filter, piping and bends $1000
Total $8000 and you are easily in the 400's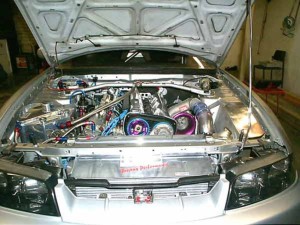 The theory behind why I believe this set up is the best to get a RB26 into the 400's is due to the power delivery and drivability. I didn't suggest going with low mount twins as the Garrett -10's or the HKS GT-RS turbos are laggy as hell on a standard capacity RB26. Where as a 35R on a stabbed capacity RB26 is a really well matched turbo.
So, back to my original discussion point. The 33 GT-R's result at the dyne shoot out at 462KW is it really a big deal? on e85? My opinion sits firmly on NO! Those figures are to be expected.
Regardless of my opinion the owner of that GT-R should be very happy that he or she has a quick GT-R. I also appreciate him/her for the shear fact that he/ she has to be a GT-R enthusiast! It's a beautiful thing to see.