It makes sense for me to write first featured skyline GTR article about my GTR. A little bit of self-promotion I guess.
I purchased my R33 GT-R about a year ago and I bought it because I just wanted something to drive as a daily. Considering my R32 GT-R is not looking likely to be on the road any time soon and as I'm considering it to be just a race car. This was a great alternative to quenching my speed fix.
Since I've had the my GT-R I've not touched it. I don't want to modify it too much, instead I want to keep it standard so I don't attract attention from the authorities. Even if I did, it wouldn't take much to clear a defect or not get one at all.
The specs of the car are fairly standard however I am running a trust intercooler power FC and 3 1/2 inch full HKS Dragger exhaust. Yep, still running the standard air box. In fact I changed the pod filters that were on the car when it came from Japan to a standard air box. Just to avoid any attention if I am pulled over.
The car is not tuned although it is running the Power FC. Currently the car is running on base map. I was amazed how well a Power FC base map makes the car run.
With the light modification the car drives pretty well; firm suspension gives it that added stability and grip around corners. I find standard GTR's to be a tag laggy to drive and pretty unresponsive, unless the car is on power band. Although I love GTR's I find driving a standard one or close to a standard one pretty boring. I know, what I said is a sacrilege right? But a modified GT-R is way more fun, particularly if the whole care is set up properly. Having said that, I recently took the car up to the mountains and really enjoyed hitting the bends. The car really came alive and the grip was just amazing.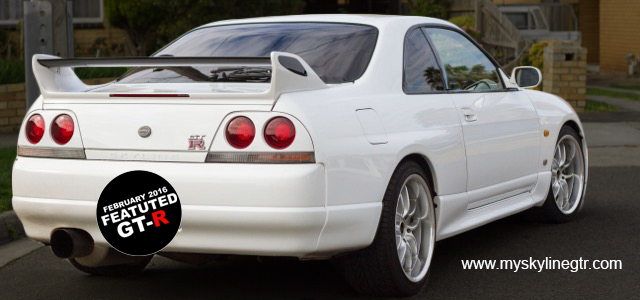 Detailed Specs
Trust 110mm intercooler

HKS suspension

Work 18×9.5

Apexi Power FC

HKS Dragger exhaust

Brass button clutch

HKS Cam Gears
Future plans
In the new year I am hoping to put brand new injectors (ID1300) and fuel rail including fuel pump to run the car on E85. I'm hoping to possibly even add a couple of – nine Garrett turbos that I have lying around. I will keep the engine unopened. Hopefully with this set up I should be pushing around the 450 kW mark.
Cosmetically I just want to get a set of Gandor Aero mirrors and add a rear diffuser. I'm not really into the cosmetics and I want to keep the car looking basic. Less attention the better I say.
What do you think about my future plans? Do you think with the list of mods I'll be able to hit 450Kw at the rears? Or are there other supporting mods necessary? Please leave a comment below to share your thoughts.​